What Typer of Insurance Do I Need If I Have A Pool?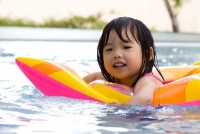 If you are thinking about installing a pool on your property, whether above-ground or permanent, you need to remember that all pools can be dangerous. Any pool that you install needs to comply with local standards and building codes, and should be reported to your insurance company. The liability portion of your homeowner's insurance will provide liability coverage for incidents related to your pool, but your insurance company needs to be notified of your pool because having a pool increases your liability risk.

A statistic from the CDC states that more than 3,200 people drown each year in pool-related incidents. A drowning can happen in a residential pool simply by leaving a child unattended for a minute or two. Believe it or not, a very young child can actually drown in less than 30 seconds in less than six inches of water. That child could be your child or someone else's. If someone drowns in your pool, even if they were using it without your permission, you can be sued. This is why, in addition to potentially modifying your insurance, the addition of a pool may require you to install a protective fence, cover, or other pool safety equipment, depending on local codes, safety standards, and regulations.
Typical homeowner's insurance policies provide $100,000 in liability coverage, but when you have a pool, it is a good idea to increase your limits of liability to at least $300,000 or $500,000. Your insurance agent will be able to provide you with a recommendation regarding an appropriate level of coverage once you have provided him/her with details about your pool. You may also want to ask your insurance agent about possibly purchasing an umbrella liability policy. Umbrella policies are relatively inexpensive and can cover a large amount in liability coverage, and this coverage also provides excess coverage over and above the liability coverage in your auto and homeowner's insurance policies. This means that if either your homeowner's liability or auto liability insurance limits become exhausted by a claim, your umbrella policy will provide excess coverage.
While you should always carry insurance limits appropriate to owning a pool, you should always take steps to prevent a potential pool accident in the first place. You should never leave small children unattended near a pool even for a moment, and it's a very good idea to be CPR trained in case something ever does happen.