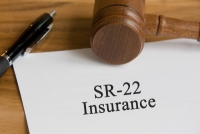 An SR-22 is a document that provides proof of financial responsibility relating to auto insurance. You typically need an SR-22 if you have been cited for DUI/DWI, a serious moving violation, license suspension, getting too many points on your driving record, revoked license, or for driving without insurance. If you are required to carry an SR-22, it is usually for a specified amount of time such as 3 years. After you have carried an SR-22 for 3 years, you have usually fulfilled your SR-22 obligation and are no longer required to have one.
If you are required to have an SR-22, you should get used to the idea because people typically have to carry them for 3 years. When you have an SR-22, you must carry auto insurance without any lapse whatsoever for your SR-22 requirement to expire at the 3-year mark. If your auto policy lapses or your policy is canceled for any reason, your auto insurance carrier is required by law to notify the state, which will result in your license being suspended again.
When you get an SR-22 filing with an auto insurance carrier, the carrier will automatically provide proof of your auto insurance to the DMV for you. Once your SR-22 has been filed with the DMV, your license suspension will be lifted and you are able to legally drive again. SR-22 filings vary by state, so if you move to another state, be sure to fulfill the SR-22 filing for the number of years required by the first state. Additionally, your limits of liability on your auto insurance policy in your new state must be greater than or equal to the minimum required limits of liability of your former state. After you have fulfilled the SR-22 filing period for your former state, you are only required to carry the minimum limits of liability of your new state.
Keep in mind that in some state, you will be required to pay a fee in order to get an SR-22 filing through your insurance carrier. While SR-22 filings are usually similar from state to state, be sure to check with your auto insurance carrier, insurance agent, or broker to make sure that you are clear on the specifics related to SR-22 filings in your state.