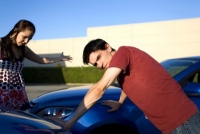 When you are involved a vehicle collision, there can be many different scenarios and perceptions regarding whom is at-fault. Sometimes you may think you were at fault, but other times the other driver involved may have been at fault. It gets a little more complicated when you are hit by another driver, but the other driver then says it's your fault.
Your Claim is Denied
Sometimes your claim will be denied even when you have evidence of the other driver's fault in the accident or even if they admitted fault at the scene of the accident. Usually when this happens, it's because the other driver told his/her insurance company a version of the events regarding the accident that are in contrast to your version of the events. Sometime oddly enough, the other person's insurance company will deny your claim even though the police report supports your version of the story. This is why it is so important to make sure that you write down as much as you can about the accident at the scene, so that you won't forget anything, and also to ensure that you get as much information about the other driver and his/her vehicle as you can. Even more valuable is if you have witnesses that can support your version of the story. Take pictures of your vehicle, any vehicles involved, and of the surrounding areas where the collision occurred.
The Other Driver's Insurance Company
When the other driver's insurance company is telling you that the accident was your fault, you should ask them to explain to you how the accident could have unfolded in the manner that the other driver is claiming. Often times, there will be inconsistencies or red flags that make it apparent that the other driver is being less than forthcoming. You should always report accidents to your own insurance company because this will provide a record that you don't have anything to hide and that you are comfortable reporting the accident. Often times the person whom is at fault will not be eager to notify their own insurance company about an accident that they caused.
Conveying Your Expectations
One way of preventing the other driver's insurance company from attempting to take advantage of you and/or deny your claim, is to write the other driver's insurance company a letter stating what happened, what your expectations regarding the claims process, and what costs you would like them to pay. When you draft this letter, be sure to mention everything you expect payment for such as vehicle repairs, rental car expenses, medical expenses, any wages that you lost, total-loss to your vehicle, diminished value to your vehicle, etc. By stating your expectations and reminding them that you know your rights, they are much less inclined to try and take advantage of you and/or try to bully you into accepting less than you are owed or even saying you are at fault.
---