Theft of your purchases from your car while shopping. Are you Covered?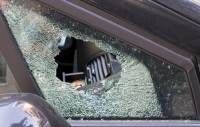 Pretty much every one of us has stashed gifts and purchases in our car while at the mall and then gone back to do more shopping. While it might seem like your auto insurance would cover the theft of such items, it's actually your homeowners' insurance that provides such coverage. You will need to file a police report and pay your policy's deductible in order to make a theft-related insurance claim, but in many cases it is well worth it.
If you had the misfortune of having your receipts stolen with your purchases, you may have to obtain duplicate receipts from the stores where you made your purchases in order to document your purchases for the insurance claim. Remember that criminals often look for gifts and things of value that have been left in cars, so that they can steal them. You should always do your best to make sure that your purchases are either in your trunk or not in plain view. It can also be a good idea to make your most expensive purchases when you are able to drive straight home afterwards.
A homeowners' policy, a condo policy, and a renter's policy all cover purchases that are stolen from your car. The one downside of having this type of loss covered by your homeowners' insurance is that the deductibles can be somewhat high depending on the amount of your deductible. Another thing is if the purchases that were stolen from your car are worth $2,500 and your deductible is $1,000, you are paying $1,000 to get back $2,500 worth of stuff. Additionally, certain types of items are scheduled, which means that things like watches, jewelry, and furs are limited to $1,500 of coverage per loss by theft.
You should always speak with your agent before filing a claim after theft because if your deductible and the maximum payouts for particular items that are stolen don't even come close to the replacement value, then all you are really getting is higher premiums for a few years.