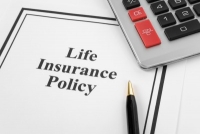 Some people like to live in the now. For these people, tomorrow will take care of itself and to think about it would mean they aren't living in the present. However, if you ask one of these people why they don't have life insurance, they will probably come up with an excuse. Here are 10 of the reasons they might say.

1) "I'm going to win the lottery"

Simply put, you aren't. You have probably heard that you have a better chance of getting struck by lightning than winning the lottery, but that doesn't even do the odds justice. In reality, you are 300 times more likely to be struck by lightning than win a multi-state lottery prize.

2) "I'm never going to die"

Nobody knows what's their expiration date going to be, but many people choose to put off this critical decision and not budget for life insurance.

3) "I'm going to inherit a fortune"

For people have parents that are financially secure and will be able to leave them an inheritance, perhaps a large one. The truth is there is a lot that can happen. Fortunes fade relationships sour and those changes can impact the size of an inheritance.

4) "My children will support me"

Some grown children intend to give back to their parents at the end of their life and help support them. They might even be able to pay for all the expenses of your passing with little problem. However, wouldn't it be a great way to thank them by lifting that financial burden?

5) "I'm never going to retire"

So, you've found a job that you love and you never want to quit working. That is great. Everyone should be as fortunate. A lifetime of work doesn't guarantee the financial stability to pay for the expenses at the end of life that would otherwise fall on the shoulders of your family.

6) "The government will take care of me"

Have you been following the news? The government doesn't excel at management and even if they take care of you today, there is no promise that they will in the future. The best policy is to take responsibility for yourself.

7) "I don't care about anyone in life"

Really? You don't care about anyone? Chances are, if you took the time to think and soul search, you could find people that mean something to you. These are likely the same people who would come to your aid at the end of your life and make arrangements after you pass away.

8) "I didn't like the house anyway"

Life insurance proceeds aren't always simply used to pay off a house. They can be given to beneficiaries, charities or used for other purposes.

9) "There's nobody in life I'd like to leave it to"

While I highly doubt that this reason is true for most people, there are numerous non-profit organizations that can receive life insurance money. If there is no non-profit organization that resonates with you, you could start your own cause or develop a charitable trust for the money to go to.

10) "I have no convictions (don't belong to churches/charities)"

Not everyone leaves their life insurance proceeds to a charity. The family and friends a person leaves behind are often the primary beneficiaries of a life insurance.