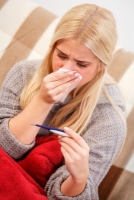 Winter is a time when people get sick and catch more colds than other times during the year. Here are some tips and recommendations related to illness prevention. Did you know that the average American adult suffers two to three colds per year? Most of these colds can be avoided by taking a few precautionary steps.
Germs are most often spread when someone touches their eyes, nose or mouth after touching something that is contaminated with germs. Kitchen sponges and dishcloths tend to have the highest concentration of germs in the home. The next highest on the list are sink drains, faucet handles, and doorknobs. Keeping these objects clean will help to reduce the spread of infection.
Tips & Recommendations on how to prevent colds, flu, and viruses:
Ask your doctor if he/she recommends that you get a flu shot. If you don't like shots or needles, be sure to ask your healthcare provider about the nasal spray vaccine.

Washing your hands often for 15-20 seconds with soap and warm water will help to prevent you from transferring germs from your hands, which may have come in to contact with cold/flu causing germs, to your eyes, mouth, or nose. If you aren't able to wash your hands because soap and water aren't available or you are on the go, you can use a gel hand sanitizer instead.

Try to remember to sneeze and cough into your arm or a tissue to prevent you from spreading germs and getting other people sick. When you simply cover your mouth with your hand when you cough or sneeze, you are simply putting the germs right on your hands, where you can spread them to other objects and people. Instead, hold the crook of your elbow over your mouth and nose when you sneeze or cough if a tissue isn't handy.

Be sure to clean any shared spaces or items more often. These might include phones, keyboards, a computer mouse, steering wheels, office equipment, etc.

Be sure that you get enough sleep. When you are sleeping, your body's immune system goes into overdrive to protect you from illness. Lack of sleep can reduce immune functioning making you more susceptible to sickness.

Try to drink enough water. The water balance in your body is important and it is a crucial part of your overall health. Be sure to drink a minimum of 8 glasses per day or take half of your body weight in pounds and that is how many ounces you should drink.

You should also ensure that you eat a balanced diet of fruit and vegetables.

Supplements can be used to improve your health and fill any deficiencies in your diet. Some of the supplements that enable your body to fight off infections are: Vitamin C, Echinacea, Antioxidants, and Garlic (supplement form has no odor).

Controlling stress is an important one, but is easy to say, yet harder to do. Remember that stressed out people have up to twice as many colds as people that aren't stressed out.