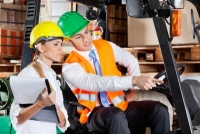 Many businesses, small businesses in particular, are plagued by expensive workers' compensation insurance, but one of the best and most effective ways to prevent these costs from spiraling out of control is to create a workplace that is safe and reduces the risk of workplace injuries from occurring. Workers' compensation typically covers the cost of not only medical bills, but also the time lost from work and the costs associated with any long-term or permanent injuries. For most businesses, the cost of workers' compensation insurance is the second largest expense, only behind the payroll costs.
Employers can take steps to prevent injuries and accidents from occurring in their business, which can lower the cost of coverage.
Carefully Screen Employees for Risk Factors
The first step to creating a safer workplace should occur before hiring an employee. Employers should take the extra time to ensure their employees don't have any red flags that could make them more prone to being involved in a workplace accident—performing drug tests and criminal background checks are a good way to avoid hiring a risky employee.
Create a Safety Checklist
It's important, as an employer, to take the time to create a comprehensive checklist of all potential safety hazards in a workplace and then create measures that employees can use to avoid those hazards. There will always be accidents that occur, but there are numerous steps that can be taken to reduce the risk.
Give Employees Flexibility in Their Duties
When employees perform repetitive tasks hour after hour, it can lend itself to an increased risk of accidents occurring. It can also increase the risk for injuries related to the lower back and carpal tunnel syndrome. Give employees the opportunity to vary their work tasks, and create guidelines for employee breaks during shifts.
Get an OSHA Report
Business owners have the ability to request that OSHA (Occupational Safety and Health Administration) come to their workplace and complete a report on the safety conditions present. Not only can this prevent you from being subject to OSHA forcing you to make changes in your workplace, but it's also a great way to have them spot potential safety hazards you might not have otherwise noticed.
Take Preemptive Measures
Take time each day to walk around your business and look for potential hazards. Take steps to fix the possible problems before an accident or injury has the chance to occur. Rather than being inactive and relying on insurance to take care of accidents that may occur, save yourself time and money by completing repairs and minimizing risks. This will also portray to employees that you are serious about safety in the workplace, which will likely encourage them to be more cautious at the workplace as well.