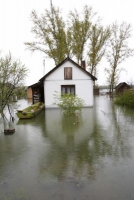 According to the National Flood Insurance Program, which was created in 1968, flooding is the number one natural hazard in the U. S. For both Hurricane Sandy and Hurricane Isaac, flooding was the primary cause of damage. A large number of people don't realize until it's far too late that flooding is not typically covered by a regular homeowner's insurance policy.
Many people think that natural disasters are covered under a homeowner's insurance policy. While damage from lightning, windstorm, or hail are covered under most homeowner's insurance policies, floods, earthquakes, and volcanic eruptions are not. Homes and business properties that are located close to the shoreline often have to have special policy endorsements that provide coverage for water damage. There are actually quite a few myths about flood insurance that should be debunked.
You can get flood insurance nationwide and even if you live in an area classified as a floodplain or high flood-risk area.

You can get flood insurance even if your property has experienced flood damage before, despite myths to the contrary. You do, however, have to get flood insurance before you experience flood damage in order to be covered. Flood insurance policies can be purchased directly from your insurance agent.

While many mortgage companies require flood insurance in order to secure your loan, you can get flood insurance even if your mortgage broker doesn't require it. If you happen to live in a high-risk flood zone and receive federal assistance following a flood, you will likely be required to carry flood insurance for the remainder of your mortgage. If you receive federal assistance following a flood and don't carry flood insurance and experience flood damage again, it is likely that any new requests for federal assistance related to floods will be denied.

Contrary to misinformation, you can still get flood insurance at a discounted rate if you happen to live outside of a floodplain or in a low-moderate risk flood area.
If you do experience flooding, you should always start the insurance claims process as soon as possible. You can call your agent or broker to file a claim, after which an insurance adjustor will contact you to gather information regarding your claim. You should begin to separate undamaged property from damaged property as soon as you can. You should take pictures of all your damaged property such as discarded items, damage to your structures, and standing water. If you are able, you should make an inventory list of all your damaged items and be sure to include the approximate date of purchase, value, and place of purchase.
Your adjustor will provide you with a "proof of loss" form for your damage claim, which you must file with your insurance carrier within 60 days from the date the property was damaged. After you and your insurance carrier agree on the amount of damages and your carrier has your signed proof of loss, you will receive your claim payment. Your claim payment may take longer; however, if you major catastrophic flooding such as Hurricane Sandy has occurred. Remember that you don't need to hire a public adjuster for your claim, since they will be taking a cut of your claim even if you do most of the leg work for them.