Will Exercise Help My Insurance Premium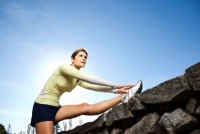 A health insurance company is in the business of providing benefits to people in need of medical treatment. The policy promises to pay medical bills in whole, or in part, which can lessen the risk of financial hardship on an injured or sick person. When an insurance company recognizes that a policyholder is taking steps to reduce that risk, it makes sense that they could consider a premium reduction because healthy people simply have fewer reasons to see a doctor.
The question then becomes how would a health insurance company measure a person's health in such a way as to determine who is healthy and who is not? There are a few general methods that insurers use, and one involves BMI, or Body Mass Index. This measurement is a ratio which takes a person's height and weight in to account. Some insurers will provide a discount to someone who can demonstrate through a medical record that their BMI is below a certain level. As an example, a 6' tall man who weighs more than 220 would have a BMI of 30 or more, which would be considered obese. In order to have a BMI in the "healthy" range, that same 6' tall man would need to have a BMI of 19 to 24, which means that at most, his weight should fall in the 180 to 190 pound range.
BMI is not the only method that an insurance company can use to gauge the health of its policyholders. Some insurers have implemented wellness programs that involve online access to a site that can be used to track physical exercise and activities. Insured people who can provide a log of healthy exercise will qualify for certain types of policy discounts, or in some cases, actual rebate checks which are offered as incentives to promote wellness and a healthy lifestyle.
Since health insurers are in the business of avoiding risk, health insurance companies recognize the benefits of lower risk individuals. If you maintain a healthy lifestyle, let your health insurer know and you may be able to save on your health insurance premiums.
---