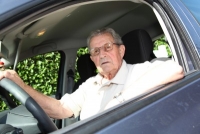 Senior drivers are no different than younger drivers, in that they also want to get the best possible rates on their auto insurance policies. Some seniors may not be aware that as older drivers, they may be at higher risk of being involved in a collision than other drivers. Seniors with accidents on their driving record will naturally have higher rates on their auto insurance than seniors with clear driving history. Seniors who are able to drive safely and avoid collisions can be sure that they are getting the best rates on their auto insurance policies. Here are some helpful tips for seniors (and other drivers) that will help to make them safer drivers.
Night Vision

– Keep in mind that as we age, our night vision simply isn't what it used to be. Be sure to avoid wearing dark or tinted glasses when driving at night. Additionally, remember that both twilight and dusk are times when it can be more difficult to see.

Shopping for a New Car

– When shopping for a new car, consider cars that have automatically dimming rear-view mirrors that will filter out and reduce glare from bright headlights behind you. Additionally, consider selecting a car with an automatic transmission, adequate power steering, and brakes that require less physical effort.

Avoiding Accidents

– Many auto accidents occur at intersections, so be sure to pay close attention at intersections. Many auto accidents at intersections can be prevented by simply not choosing to change lanes just before or just after an intersection because this practice can result in collisions with drivers who are making turns and entering traffic. Additionally, if you are making a left turn at an intersection, remember to keep your tires pointed straight ahead until you are actually going to turn to avoid being pushed into oncoming traffic in the event that you are rear-ended.

The Flow of Traffic

– All drivers should do their best to drive at the posted speed limit, but driving too slowly can be every bit as dangerous as speeding, especially when merging onto or exiting freeways. Many drivers are accustomed to drivers entering and exiting freeway traffic at the posted speed limit, so a car that is driving much slower than the flow of traffic can create a very hazardous condition for drivers behind them. If you wish to driver at a slower pace than the flow of traffic (but still near the posted speed limit), consider driving in the right-most lane, so that vehicles traveling faster are not taken by surprise by a slower vehicle (especially at night).

Proper Seating Position

– While you shouldn't sit in an uncomfortable position while driving, you should also be sure that you are seated high enough so that you can see at least 10 feet in front of your vehicle. Being able to see at least 10 feet in front of your vehicle will ensure that you will easily see pedestrians, bicyclists, and anything else in the road. This will also help to minimize glare from the headlights of oncoming vehicles. If your vehicle or personal stature does not accommodate this, you can sit on a cushion that is designed for this purpose.

Refreshing Driving Skills

– Senior drivers can refresh their skills and knowledge related to driving, and also get auto insurance discounts, by completing driver training courses (such as offered by AARP and/or National Safety Council).
The majority of senior drivers have a great deal of driving experience and knowledge compared to younger drivers, but as seniors, we also have to remember that our driving ability can be impacted by vision and reaction times due to various conditions and/or medications that we take. So remember to drive safely and take advantage of all of the auto insurance discounts that you can.