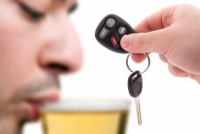 Driving under the influence (DUI) is a serious traffic offense that can significantly affect your auto insurance. A DUI can result in a suspension of your driver's license, requirement that you carry an SR-22 filing for several years, doubling or tripling of your auto insurance rates, and even your insurance carrier dropping you altogether. After a DUI, you are viewed as a high-risk driver, which results in many noticeable changes in your auto insurance.
After a DUI, your current carrier may keep you as a policyholder and simply re-rate you, based on the new risk you present, at the end of your current policy term. Sometimes, however, your insurance carrier may simply drop you altogether. Insurance carriers that are preferred carriers that charge very low rates and only allow one at-fault accident and/or one moving violation are typically the types of carriers that will drop a driver with a DUI immediately. Whatever your insurance carrier decides to do after learning of your DUI, it is definitely worth your time to get a few different quotes on your auto insurance coverage because now that you are a higher-risk driver, you may find that certain carriers are now more competitively priced than others.
Your current or new auto insurance company will need to provide you with an SR-22 filing following a DUI, which provides evidence of your financial responsibility and/or that you are legally insured (auto insurance). You have to get an SR-22 filing because you will not be able to get your driver's license reinstated without having an SR-22 because the SR-22 demonstrates to the DMV that you have a valid auto insurance policy. If your policy is canceled for any reason, the DMV will be notified, and your license suspension will start over again.
If your auto insurance policy is canceled after a DUI or you simply want to find a lower rate, although your rates will be higher at pretty much any auto insurance carrier, some will be less expensive than others and some will offer better coverage than others. Following a DUI, you should attempt obtain an auto insurance policy and/or an SR-22 because that is the only way to get your license reinstated.